HZS90 Stationary Concrete Batch Plant
Maximum aggregate diameter: 80mm
Aggregate feeding method: Conveyor belt
Aggregate bins volume: 4x12m³
Additive weighing: 4000kg ±2%
Productivity: 90m³/h
Total power: 145KW
Total weight: 60T
Description
This ready-mixed concrete plant adopts JS1500 twin-shaft concrete mixer or Original SICOMA mixer, multi sealed shaft end technology. Modular design structure makes fast and convenient assembling and debugging, safe, comfortable and reliable operation with homogeneous and efficient mixing effect. It is the ideal concrete mixing plant for construction projects, power station, roads, harbor, bridge, airport, large precast products plant and commercial concrete factories.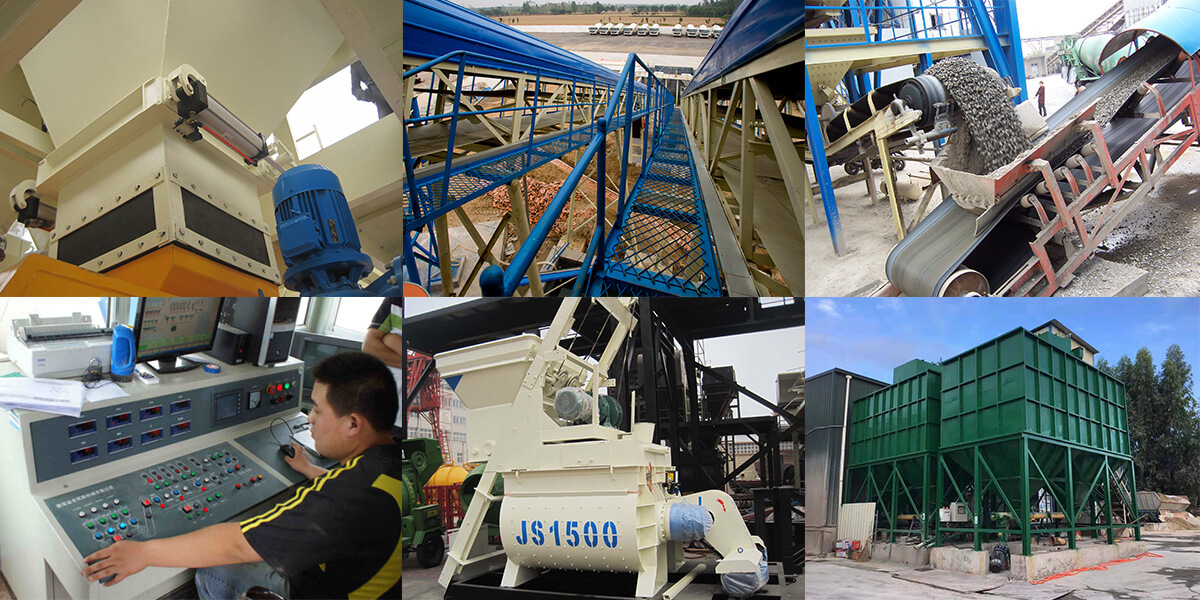 Main features of this concrete batching plant:
01
Good quality material, rational design: Steel structure is made by standard steel production of large section, fast disassembly and convenient transportation; The concrete mix plant layout is flexible, covers an maximum optimization area.
02
Superior environmental performance: This concrete batch plant adopts closed structure, with dust removal system in the mixer tower. All belt conveyor are equipped with polyurethane sweeper, big ones are also provided with a water spray cleaning device to avoid material sticking.
03
Precise measurement system: Measurement of all materials (aggregate, cement, fly ash, water and liquid additive) are scaled in electronic measurement independently.
04
Wear-resisting design: Wear resistant design for finished concrete product hopper, aggregate collection hopper, belt machine head cover, main part is provided with a replaceable lining plate.
05
High quality and reliable mixer: Double horizontal shaft design, SICOMA technology, mixing rapidly and high productivity.
06
Suitable for different environment: Heating system and ice plant could be adopted into this plant in severely cold and hot places.
07
Twin-shaft FOCUS mixer is famous for its high efficiency, lower energy consumption, durable and heavy duty performance.
08
Heating system and ice plant could be adopted into this plant in severely cold and hot environments.
Parameter
Type
HZS90
Productivity in theory
90m³/h
Mixer
JS1500
Total power
145KW
Maximum aggregate diameter
80mm
Aggregate feeding method
Conveyor belt
Aggregate bins volume
4x12m³
Aggregate weighing
4000kg ±2%
Cement weighing
1000kg ±1%
Fly-ash weighing
400kg ±1%
Water weighing
400kg ±1%
Additive weighing
40kg ±1%
Discharging height
3.8m-4.1m
Overall dimension(during operating)
(LXWXH)
38mX16mX12.7m
Total weight
60T
Control
Fully automatic central plus manual control
Cement silo(optional)
On request
Cement screw(optional)
On request
Be noted:
1. Please ask detailed configuration from our sales reps;
2. The power figure doesn't include the power of cement silo and screw;
3. Non-standard design could be made according to clients' demand;
4. The above-mentioned data could be changed due to the technical&design upgrade, please check the updated parameter when purchasing.

Related Products
Get In Touch
If you have any suggestions or opinions about our products, please leave a message, and we will immediately answer your questions. Thanks for your support.